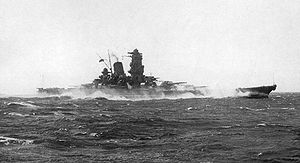 Yamato departs Truk for Yokosuka to escort Transport Operation BO-1...
Japanese battleship Yamato: Wikipedia:
Laid down in 1937 and formally commissioned a week after the Pearl Harbor attack in late 1941... throughout 1942 she served as the flagship of the Japanese Combined Fleet, and in June 1942 Admiral Isoroku Yamamoto directed the fleet from her bridge during the Battle of Midway.... Musashi took over as the Combined Fleet flagship in early 1943, and Yamato spent the rest of the year, and much of 1944, moving between the major Japanese naval bases of Truk and Kure in response to American threats. Although she was present at the Battle of the Philippine Sea in June 1944, Yamato played no part in the battle. The only time she fired her main guns at enemy surface targets was in October 1944, when she was sent to engage American forces invading the Philippines during the Battle of Leyte Gulf....

[...]

On 12 February 1942, Yamato became the flagship of Admiral Isoroku Yamamoto's Combined Fleet....

Yamato departed Hiroshima Bay on 27 May for duty with Yamamoto's main battleship group.... The Battle of Midway proved disastrous.... Yamamoto exercised overall command from Yamato's bridge, but his battleplan had widely dispersed his forces to lure the Americans into a trap, and the battleship group was too far away to take part in the engagement. On 5 June, Yamamoto ordered the remaining ships to return to Japan, so Yamato withdrew with the main battleship force to Hashirajima before making her way back to Kure.

Yamato left Kure for Truk on 17 August 1942. After 11 days at sea, she was sighted by the American submarine USS Flying Fish, which fired four torpedoes, which missed; Yamato arrived safely at Truk later that day. She remained here throughout the Guadalcanal Campaign because of a lack of 460 mm ammunition suitable for shore bombardment, uncharted seas around Guadalcanal, and her high fuel consumption....

On 11 February 1943, Yamato was replaced by her sister ship Musashi as flagship of the Combined Fleet. Dubbed "Hotel Yamato" by the Japanese cruiser and destroyer crews stationed in the South Pacific, the battleship spent only a single day away from Truk between her arrival in August 1942 and her departure on 8 May 1943. On that day, she set sail for Yokosuka and from there for Kure, arriving on 14 May. She spent nine days in dry dock for inspection and general repairs, and after sailing to Japan's western Inland Sea she was again dry-docked in late July for significant refitting and upgrades. On 16 August, Yamato began her return to Truk....

She sortied in late September with Nagato, three carriers, and smaller warships to intercept US Task Force 15, and again a month later with six battleships, three carriers, and eleven cruisers.... But there were no radar contacts for six days, and the fleet returned to Truk, arriving on 26 October....

Yamato escorted Transport Operation BO-1 from Truk to Yokosuka during 12–17 December. Subsequently, because of their extensive storage capacity and thick armor protection, Yamato and Musashi were pressed into service as transport vessels. On 25 December, while ferrying troops and equipment—which were wanted as reinforcements for the garrisons at Kavieng and the Admiralty Islands—from Yokosuka to Truk, Yamato and her task group were intercepted by the American submarine Skate.... Skate fired a spread of four torpedoes at Yamato; one struck the battleship's starboard side toward the stern. A hole 5 metres (16 ft) below the top of her anti-torpedo bulge and measuring some 25 metres (82 ft) across was ripped open in the hull, and a joint between the upper and lower armored belts failed, causing the rear turret's upper magazine to flood. Yamato took on about 3,000 tons of water, but reached Truk later that day. The repair ship Akashi effected temporary repairs on the battleship, and Yamato departed on 10 January for Kure....

Yamato left Kure on 21 April and embarked soldiers and materiel the following day at Okinoshima for a mission to Manila, reaching the Philippines on 28 April. She then moved on to Malaysia to join Vice-Admiral Jisaburo Ozawa's Mobile Fleet at Lingga....

In early June, Yamato and Musashi were again requisitioned as troop transports, this time to reinforce the garrison and naval defenses of the island of Biak.... The mission was cancelled when word reached Ozawa's headquarters of American carrier attacks on the Mariana Islands.... From 19 to 23 June 1944, Yamato escorted forces of Ozawa's Mobile Fleet during the Battle of the Philippine Sea, dubbed by American pilots "The Great Marianas Turkey Shoot".... Yamato's only significant contribution was mistakenly opening fire on returning Japanese aircraft.

Following the battle Yamato withdrew with the Mobile Fleet to the Hashirajima staging area near Kure to refuel and rearm....

Between 22 and 25 October 1944, as part of Admiral Takeo Kurita's Centre Force (also known as Force A or First Striking Force), Yamato took part in one of the largest naval engagements in history—the Battle of Leyte Gulf....

The Battle of the Sibuyan Sea hurt the Centre Force badly with the loss of three more heavy cruisers, eliminating a substantial part of the fleet's anti-aircraft defence. During the course of the day, American carrier aircraft sortied a total of 259 times. Aircraft from the USS Essex struck Yamato with two armor piercing bombs and scored one near miss; Yamato suffered moderate damage and took on about 3,370 tonnes (3,320 long tons) of water, but remained battleworthy. However, her sister ship Musashi became the focus of the American attacks and eventually sank after being hit with 17 bombs and 19 torpedoes....

Convinced that Kurita's Centre Force had been turned back, Halsey took his powerful 3rd Fleet in pursuit of the Japanese Northern Force, a decoy group composed of one fleet aircraft carrier (Zuikaku), three light carriers, two Ise-class hybrid battleship-carriers, and their escorts. The deception was a success, drawing away five fleet carriers and five light carriers with more than 600 aircraft among them, six fast battleships, eight cruisers, and over 40 destroyers. During the hours of darkness Kurita's force navigated the San Bernardino Strait and shortly after dawn, in the Battle off Samar, attacked an American formation that had remained in the area to provide close support for the invading troops. Known as "Taffy 3", this small group comprised six escort carriers, three destroyers, and four destroyer escorts.... Yamato engaged enemy surface targets for the only time in her career, hitting several American ships. After Yamato confirmed primary battery hits on the escort carrier USS Gambier Bay, a spread of torpedoes heading for Yamato were spotted; the battleship was forced to steer away from the fighting to avoid them and was unable to rejoin the battle.... Yamato emerged from the battle without serious damage; only three near misses from bombs and seventeen casualties from strafing were suffered during the battle itself, while carrier strikes during the retreat caused light damage to the ship and injured or killed 21 crewmen.... Following the engagement Yamato and the remnants of Kurita's force returned to Brunei....

Yamato was immediately drydocked for repairs and anti-aircraft upgrades on reaching Kure, where several of the battleship's older anti-aircraft guns were replaced....

On 19 March, American carrier aircraft from Enterprise, Yorktown and Intrepid raided Kure.... Yamato sustained only minor damage from a number of near misses and from one bomb that struck her bridge. The intervention of a squadron of Kawanishi N1K1 "Shiden" fighters (named "George" by the Allies) flown by veteran Japanese fighter instructors prevented the raid from doing too much damage to the base and assembled ships, while Yamato's ability to maneuver—albeit slowly—in the Nasami Channel benefited her...